On January 31st, the Chinese celebrate New Years.  Here are some of our favorite treats in celebration of Chinese New Years.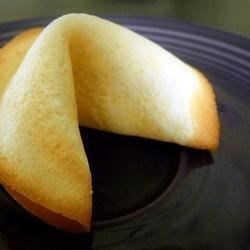 Homemade Fortune Cookies
This recipe received 4/5 stars on allrecipes.com.
What You Will Need:
1 egg white
1/8 teaspoon vanilla extract
1 pinch of salt
¼ cup unbleached all purpose flour
¼ cup white sugar
Directions:
Preheat oven 400 degrees F. Generously grease two cookie sheets. Write fortunes on strips of paper that are about 4 inches long and ½ inch wide.
Mix egg white and vanilla until foamy but not stiff. Sift flour, salt, sugar, and blend into egg white mixture.
Place teaspoons of the batter at least four inches apart on one of the cookie prepared cookie sheets. Tilt the sheet to move the batter in round shapes about 3 inches in diameter. Make the batter as round and even as possible. Do not make too many, because the cookies have to be really hot to form and once they cool its too late. Start with 2 to 3 to a sheet.
Bake for 5 minutes or until cookie has turned golden color about ½ inch wide around the outer edge of the circle. The center will remain pale. While one sheet is baking, prepare another one.
Remove from the oven and quickly move cookie with spatula and place upside down on a wooden board. Quickly place the fortune on the cookie close to the middle. Close the middle and fold the cookie in half. Place the folded edge on the rim of a measuring cup and pull the pointed edges down. Place the fortune cookies into the cups in a muffin tin or an egg carton to keep their shape until firm.
We do not own this recipe, all rights belong to allrecipes.com.  
Chinese Dragon Cake
This recipe received 5/5 stars on spoonful.com
What You Will Need:
1 Package yellow cake mix.
1 Large container of white frosting.
Food coloring.
2 Round chocolate candies for the eyes.
Directions:
Bake cake according to package directions putting half of the batter in a 9″ round pan and the remaining batter into cupcake pans (you'll need 12 standard sized cupcakes and 3 miniature cupcakes).
Once cool, cut out head shape and use scraps for hair and beard.
Frost the entire head and body with white frosting, then pipe on the face and scales with red and yellow frosting. Add round chocolate pieces (cut flat on the bottom) for the eyes. Arrange on a large tray or cardboard covered in tin foil.
We do not own this recipe. All rights belong to spoonful.com.