Upcycling Class Challenges Students to Turn "Trash into Treasure"
"The most important goal that I have for my upcycling class is to teach students ways in which their trash can be turned into treasure. There are so many fun and unique projects that can be created with things that are free or would otherwise be considered trash," stated Mrs. Solyom, the upcycling teacher at PYLUSD Summer School Enrichment Classes held at Fairmont Elementary School in June and July. She will be a first grade teacher at Glenview Elementary School in the fall.
Mrs. Solyom enjoys upcycling in her free time and decided to create a class based on her passion. Her students have learned to take everyday items that would be thrown away and turn them into objects such as bookmarks, board games, and baskets. Mrs. Solyom encourages them to create projects by themselves and bring them to class to inspire others.
"My favorite upcycling project was the puzzle, because it was challenging," said Jackie Mejia.
Upcycling by google definition is to reuse an object or material in such a way as to create a product of a higher quality or value than the original, hence the term "trash to treasure." "I never upcycled before, because I didn't know what it was, but now that I do I will upcycle all the time," said Elyse Espejomancell.
Many people upcycle it's a way to recycle and be creative at the same time. It attracts artists as well as nature enthusiasts. "I enjoy crafting and upcycling involves a lot of crafts and creativity!" Mrs. Solyom told the Matador Messenger "I also tried to think of a subject that would interest my prospective students".
According to Upcycling 101 Upcycling was first recorded in 1994 and was recognized in 2002 by William Mcdonough and Michael Braungart in their book Cradle to Cradle Remaking The Way We Make Things.
Although upcycling is considered a newer trend, many have done it for years. Even when they don't realize it. Have you ever turned your old peanut butter jar to a rubber band holder, have you ever used an old shoebox for a project at school? If you've turned something from its original value to equal or greater value you have upcycled. As stated in Hipcycle and Upcycle That.
"I had a lot of fun in upcycling class. I like to create stuff and I learned how to make a puzzle," said Madison Summerfield.
Readers interested in upcycling may wish to check out the following projects at Upcycle That :
"Bubble Blower"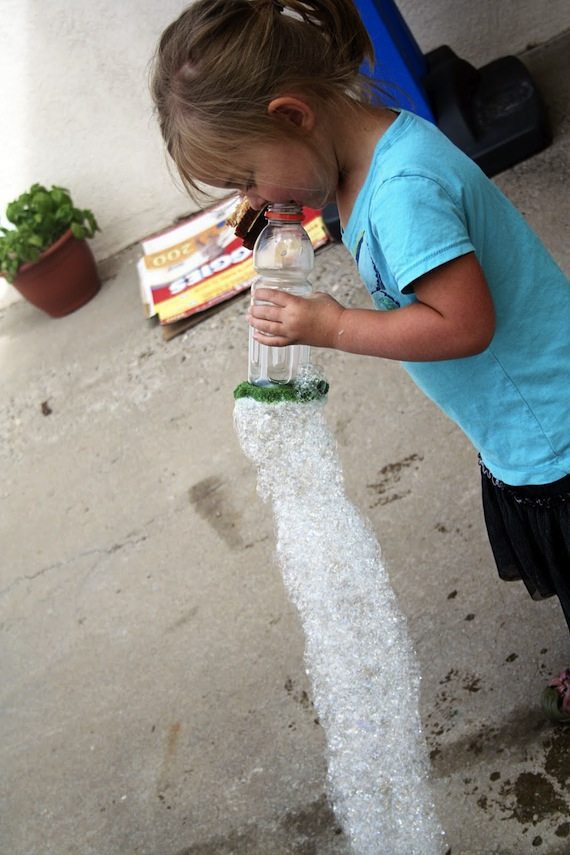 Materials you'll need:
empty plastic bottle

wash cloth

rubber band

dish soap

water
To make:
Cut the bottom off of you plastic bottle. Trace out the bottom of the bottle on the terry cloth and leave an inch or so overlap for the rubber band. Affix the cloth to the cut plastic bottle using the rubber band. Mix 2 parts dish soap to 1 part water. Dip the cloth part of your new bubble blower into the bubble mixture and start blowing.
Kick off the good times by asking everyone how long can they make their bubble snakes. Let the good times roll!
"Plastic Bottle Bowling"
Materials
6 to 10 plastic bottles

Red, yellow, black, and white paint

Permanent marker
Optional

Mod Podge/spray sealant
How to make sumo wrestler plastic bottle bowling pins
These bowling pins are made from Aquapod bottles but you could use 6, or even 10 of any kind of plastic bottles. Cover your work area (and children) and mix up some skin colour paint using a combination of red, yellow and a bit of white.
Once your paint is ready pour a little into each bottle and close the lid. Then shake your bottles to coat the insides evenly. Your little upcycler will likely love this part.
Next uncap your bottles and pour out the excess paint. Leave the caps off to let the plastic bottles dry overnight. Once your bottles are dry it's time to paint on the sumo wrestler accessories.
Sumo wrestlers classically have white loin coverings (mawashi) and top knot buns. Use white paint for the mawashi and black paint for the top knot and hair. Use a black permanent marker to draw on the little smiling faces.
Once everything has dried you can cover all the bottles with Mod Podge/spray sealant to protect your paint from chipping with use.
Then line up your crew of sumo wrestler plastic bottle bowling pins, grab a ball and start bowling!
"Upcycling is a combination of ingenuity, art, and crafting so it is interesting to many people!" Explained Mrs. Solyom.
Leave a Comment